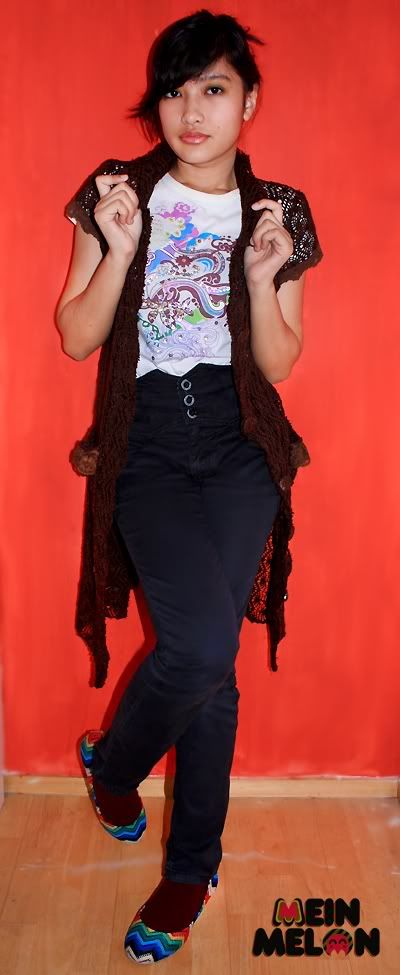 Wednesday, 24th February 2010 - High On Knit
had a 'brilliant' MI TVC presentation wif Ecah today..
melon wears:
Brown Knitted Long Cardigan (China)
Sequined T-Shirt (Lifestar)
High Waisted Black Pants (Esprit)
Brown Socks (Sox World)
Knitted Rainbow Flats (Vincii)
see more pictures of what i wear last week by clicking the
Full Post>
link down here.

Thursday, 25th February 2010 - Dino Teeth
had to act as a crazy shopaholic again today, only stressing more on the 'crazy' part. i find acting as a stupid person works better with me.
melon wears:
Mustard Dino T-Shirt (Malaya Distro)
Pinstripe Brown & Beige Halter Neck Vest (Radioactive)
High Waisted Black Pants (Esprit)
Yellow Socks (Sox World)
Stripey Purple & White Slip On Shoes (Crocs)

Friday, 26th February 2010 - Gongxi Gongxi!
i as super tak puas hati today. some people can get away by doing shitty works. but, me, i think my works are quite okay, only have to add some tweaks here and there and do more of it. but, still, I AM NO PEMALAS when it comes to assignments! oh, and, thanks for people who liked this cheongsam top :D
melon wears:
White Inner Shirt (Emas Sutera)
Sleeveless Cheongsam Top (Vietnam)
Leather Skinnies (Romp)
Shoelaces Socks (Converse)
Neon Coral Pink Flats (Vincii)

Friday, 27th February 2010 - Poky Polky
something bizzare happened today, but i'm not gna tell you bout it.. it's my first time wearing this dress in public.
melon wears:
Purple Bow Headband (Chamelon)
Black Polkadot Dress (Sungei Wang)
Black Opaque (Momoe')
Neon Coral Pink Flats (Vincii)